Speech of students from Erasmus+ Programme, who studied at PWSTE in Jarosław in the academic year 2016/2017 (I semester)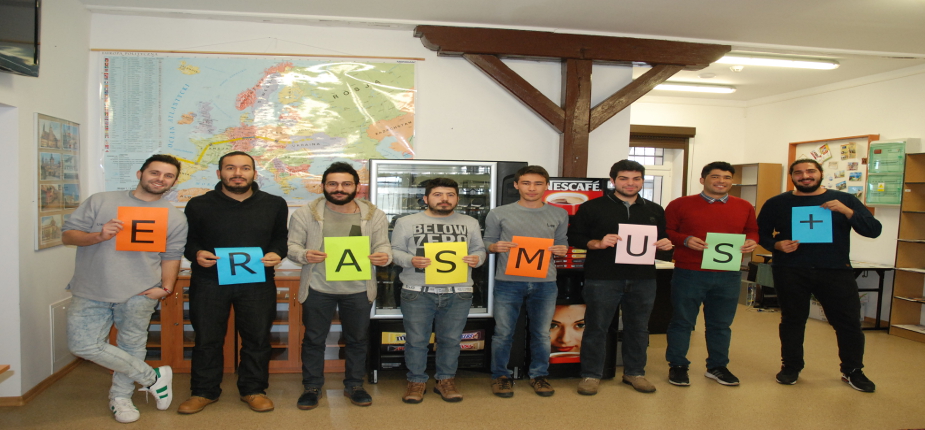 For me PWSTE is a university that you don't expect, PWSTE is a good university, new, with lots of activities and opportunities, that fights to do their best in every single lecture, and with every single student. The classrooms are not crowded, so the way to learn is better. I am impressed by this uni, I didn't expect this.

Juan Garcia Gallego (University of Murcia - Spain)

Hello:
''My name is Zaker, I am from Afghanistan and I attended the Erasmus+ from Turkey, I study international relations as an exchange student here in PWSTE. I was very excited to attend the Erasmus program in Poland; it's medieval architecture and historical heritages make it a perfect place to spend a semester here. PWSTE, with it's friendly staff and professors and Jarosław city will make a pleasant and unforgettable memory of a semester in Poland which I will never forget".

Mohammad Zaker Nadiri (Sakarya University - Turkey)

Hello, I'm Altymyrat Jorayev. I'm Erasmus+ student in PWSTE Jarosław. I come from Turkey and I'm studying Computer Science. The University includes modern computer laboratories courses and international certificates, training courses, free software and excellent scientific personnel. I'm living the University's dormitory. The dormitory is near to some place that Market, Bus stop, Train stop, Gymnasium, clubs.
Altymyrat Jorayev (Sakarya University - Turkey)


Hello, My name is Recep. I am from Turkey. I am a trainee in PWSTE. We have many advantages here. First one is luxurious rooms in the dormitory. We also have sport facilities like gym, fitness room, tennis court, football pitch, basketball and volleyball arena. We have a Erasmus+ Director who is so friendly. She has a big smile always. I do my practice with her. It is good to be here ????

Recep Budak (Sakarya University - Turkey)


Hi. My name is Erdem. I came from Turkey and I study here electrical engineering being Erasmus+ student. You will have a lot of fun during study in Poland. You can discover the history of Poland you will like old town and building also you can join entertainment life. Jarosław there is pretty good and small city. You will have a lots of friend here not all Polish, there is also a lots of Ukrainian. İf you want, you can reach easily other city like Rzeszów and Kraków. In PWSTE, all staff is very helpful about your problem. You will get diffrent and nice experience for your life.
Erdem Orhan (Sakarya University - Turkey)


Hello. My name is Muhammed. I came from Turkey to Jarosław. I am an Erasmus+ student.
My department is International Relations. Jarosław is very lovely city. Also PWSTE is nice University. There is a Erasmus+ Coordinator. Her name is Magdalena Bojarska. And a helpful person who is interested in those students. Also the students are so friendly in PWSTE. I can say that dormitory is comfortable. There is a carpet field, tennis court and basketball court in front of the dormitory. That are good things for students.
Muhammed Altiparmak (Sakarya University - Turkey)

Studying in PWSTE is really good Erasmus experience. My Erasmus+ Coordinator Magdalena is really helpful and she was making trips for us.
Jarosław is a small town but if you want to travel and see other beautiful places it's just one hour Rzeszów and 3 hours to Kraków by train :)

Emir Köroğlu (Adnan Menderes University - Turkey)

Hi there. I'm Savas. I came from Turkey. Doing Erasmus+ in Jarosław is sometimes good but sometimes boring. Mostly good. Okay city is a little bit small but on the other hand this is a good this. Because everyone knows each other. This means everyone is connecting each other. If you want to know about night life, there is a club next to the dormitory. It's small but quite good. And you can go to Rzeszów if you want.
You can go in an hour by train. The university has a beautiful and clean gym. And it's free for students. There are many activities for students here. Like travels, special days, meetings etc. People usually very polite, helpful and friendly.
Finally we have a adorable Erasmus+ Coordinator here. I want to offer my heartfelt thanks to her :)
Savas AVCI (Usak University- Turkey)
Zapisz
Zapisz
Zapisz