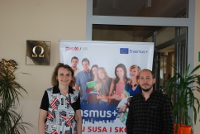 On 21-25 May 2018, another foreign scientific worker visited PWSTE in Jarosław, he took part in the exchange programme Erasmus+. This time, it was Emin Tas who represented the Faculty of Civil Engineering of Afyon Kocatepe University in Turkey. He came on the invitation of Magdalena Bojarska, the Head of the International Cooperation Department in PWSTE.
The main objectives of the visit included supporting the internationalization of higher education regarding cooperation between institutions in the field of student education.
While staying in PWSTE, Emin Tas visited the Institute of Technical Engineering where he was presented the construction laboratories: strength of materials, concrete laboratory (testing of physical properties of concrete).
Taking part in the Erasmus+ programme fosters the internationalization and promotion of the project in both high educational institutions. The purpose of the visit was to improve the skills and professional qualifications of the scientist from Turkish partner university while staying at a foreign university in one of the European Union countries. If it goes about the advantages of visiting our School, one should note an unquestionable increase in the level of competence and skills.
Such travels are conducive to the integration and regional cooperation all over the world by undertaking a number of joint initiatives.
The guest met with PhD Justyna Stasieńko, Director of the Institute of Technical Engineering. Such meeting fostered the exchange of experience and scientific issues.
During the visit, Emin Tas had a possibility to see the school campus, some academic and administrative units.
An unforgettable element of staying in our School was visiting the Recreation and Rehabilitation Center, as well as a room with armchairs for a self-massage, it was like a proverbial "the icing on the cake".
Due to the mobility and support of the Erasmus+ programme, it was possible to implement the basic assumptions of training programme – strengthening cooperation with a partner in the framework of plans for joint ventures, both scientific and the ones, related to daily activities.