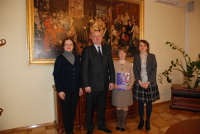 On March 12-16, 2018 the representatives of PWSTE had a possibility to host the Erasmus+ programme participants who represented Odessa National Maritime University. The cooperation with the above university was established in 2016.
The delegation came to our Higher School at the invitation of Magdalena Bojarska, the Head of the International Cooperation Department, responsible for staying of the programme participants in PWSTE. Carrying out the exchange programme Erasmus+, PhD Tetiana Kovtun, as the following representative of the academic staff, benefited from the Erasmus+ program, which extended the scope of activities to countries beyond the borders of the European Union within the educational mobility of students and academic staff resulting from the cooperation of the PWSTE in Jarosław with partner countries. The delegation also included Svitlana Glovatska, Head of the International Cooperation Department.
During staying the above university representatives at the International Cooperation Department and the Institute of Economics and Management (Finance and Accounting as well as Management Faculties), the programme exchange participants met with lecturers, mainly: prof. dr hab. Stanisław Popek and PhD Dariusz Kłak.
During the meetings which took place for several days, it was discussed a framework for future cooperation. The Erasmus+ programme participants met with the Vice-Rector for Student Affairs PhD Richard Pukała, and received the diploma confirming their active part in conducting lectures for PWSTE students.
The guests were shown the structural units of PWSTE. They were presented the Rehabilitation Centre with gym, rehabilitation and recreation studio, as well as a room with armchairs for a self-massage. Foreign guests admired modern facilities of Higher School, were positively surprised by the modern library, and above all, by cordial hospitality of the staff.
The curriculum of PhD Tetiana Kovtun included lectures regarding the project risk management. During meetings with the students, the definitions of project risk analysis, including its classification, were presented. The students had a chance to be acquainted with the qualitative and quantitative risk analysis, as well as with general principles and risk management framework.