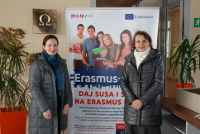 On 27th February - 1st March, 2018 the State Higher School of Technology and Economics in Jarosław visited Elena Širá, PhD, a representative of Management Faculty of the University of Prešov in Prešov.
During staying within the Erasmus+ program, the guest met with the Vice-Rector for Student Affairs, Ryszard Pukała, PhD who on behalf of the Rector, prof. UG, dr hab. Krzysztof Rejman, handed over the diploma confirming participation in the Erasmus+ training program. Magdalena Bojarska, the Head of the International Cooperation Department and the Spokesperson of the Bronisław Markiewicz State Higher School of Technology and Economics in Jarosław was responsible for staying of the programme participant in PWSTE.
The academic staff members from PWSTE, Jarosław visit the University of Prešov in Prešov very often as part of the Erasmus + program and because of other events. We were also pleased to host a representative of our long-term partner institution.
Our higher school cooperates with the University of Prešov on many levels. The confirmation of it is the organization of international scientific conference "Unity in diversity. Intercultural education in the common area of the Polish-Slovak borderland". The objective of conference (the leading partner was Slovakia) was presentation of the latest research results in the field of intercultural education against the background of regional conditions.
The purpose of Elena Širá's arriving was to strengthen the ongoing cooperation with the Slovak partner through the continuation of activities for joint ventures, both scientific and everyday activities.
During the visit our guest had a possibility to see individual units of our higher education establishment, including all institutes, the library and auditoriums, as well as a recreation and rehabilitation center, a gym and an exercise studio.